New History GCSEs without coursework are available for first examination in 2018 (teaching from 2016).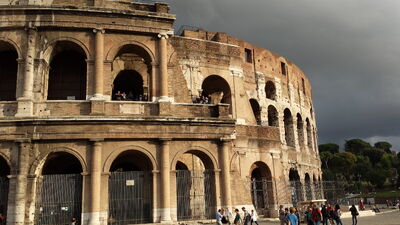 ==Edexcel International GCSE History==
Course code 4HI0
New specification for first examination in 2014.
No controlled assessment.
Two written exams.
Single-tier entry, ie you do not need to choose between Foundation or Higher tier.
No compulsory topics : "no compulsory content: teachers choose the areas of study which suit their 
needs and resources "
The new syllabus History (2017), course code 4HI1, has its first examination in June 2019 [Edexcel IGCSE History (2017)]
Structure
Edit
Paper 1 Paper code 4HI0/01
Edit
50% of total marks
Students answer 2 questions on a topic of their choice from the following list. There are some forbidden combinations - see specification.
Group A :
1 Development of a nation: Unification of Germany, 1848-71
2 Development of a nation: Unification of Italy, 1852-70
3 Autocracy and revolt in Russia, 1881-1914

Group B :
4 Development of dictatorship: Italy, 1918-43
5 Development of dictatorship: Germany, 1918-45
6 A world divided: International relations between the wars, 1919-39 

Group C
7 Dictatorship and conflict in Russia, 1924-53
8 A world divided: Superpower relations, 1945-62
9 A divided union: Civil rights in the USA, 1945-74

Paper 2 Paper code 4HI0/02
Edit
50% of total marks.
Students choose one historical investigation from this list A1-A6 
A1 The French Revolution, c1780-94
A2 The origins and course of the First World War, 1905-18
A3 Russia in revolution, 1914-24
A4 The USA, 1917-29
A5 Colonial rule and the nationalist challenge in India, 1919-47
A6 The fall of communism in Europe, 1979-91 
 Students choose one breadth study in change from this list B1-B7 
B1 Changing nature of warfare, 1803-1905
B2 Changes in medicine, c1845-c1945
B3 The changing role of international ßorganisations: the League and the UN, 1919-2000
B4 Conflict, crisis and change: The Middle East, c1919-c1995
B5 Conflict, crisis and change: China, c1911-c1989
B6 Change in Africa from colonialism to independence, 1939-2000
B7 The changing nature of warfare, c1936-c2003 

Overview of assessment 
Students are assessed through an examination based on their historical investigation and breadth study in change.
Students answer two questions, one question on their historical investigation and one question on their breadth study in change.
Textbooks for Edexcel
Edit
Edexcel International GCSE History Student Book by Jane Shuter et al - Review notes that this book covers only a limited selection of topics, but it does give you guidance on how to answer the different types of questions in the two papers.
[Suggested Resources List from Edexcel]
[Edexcel Teacher Support Materials] - lots of useful documents here, including an editable Scheme of Work with suggested timescale for the course and suggested activities.  For some of the modules there are detailed guides which include advice on how to approach exam questions.
CIE IGCSE History
Edit
[Cambridge International Examinations (CIE) IGCSE History] - code 0470
This exam has an Alternative to Coursework paper and is available to private candidates.

===Textbooks for CIE

(see also general resources below)
Cambridge IGCSE Modern World History: Student's Book (History In Focus) by Ben Walsh and Michael Scott-Baumann To be published 25 Oct 2013.  The author's previous books on other specifications have had good reviews.
Twentieth Century History: IGCSE: International Relations since 1919, by Tony McAleavy  
Covers all of core B.  Understand the book, do the exercises and that's all you need (or so it would appear).
20th Century History for Cambridge IGCSE, by John Cantrell, Neil Smith, Peter Smith, Ray Ennion  
Covers all of the whole course including depth studies.  Recently released - so no review yet. The extract on OUP's website looked good though.
If you search "Vimeo videos - Simon Hinds"  You will find he has short videos which are basically summaries of the first book.  We watch those first then summarise the book.
AQA level 1/2 certificate in History
Edit
AQA History Certificate (IGCSE)
This is a new exam-only qualification available to private candidates – June sittings from 2013.
There are 3 Papers and level 1 (G-D) and level 2 (C-A*) are assessed on the same papers:
Paper 1 20th Century Depth Studies 
Candidates must study three of the following topics:
Topic 1: Tsardom to Communism: Russia, 1914–1924 
Topic 2: Weimar Germany, 1919–1929
Topic 3: The Roaring Twenties: USA, 1919–1929
Topic 4: Stalin's Dictatorship: USSR, 1924–1941
Topic 5: Hitler's Germany, 1929–1941
Topic 6: Mussolini's Italy, 1918–1946
Topic 7: Depression and the New Deal: USA, 1929–1941
Topic 8: Indian Independence, 1917–1947
Topic 9: Race Relations in the USA, 1955–1968
Topic 10: The USA and Vietnam, 1964–1975
Topic 11: The Middle East, 1956–1979
Topic 12: Changing Nature of Warfare, 1914–1957
Paper 2 International Relations 1905–2005
  Candidates must study either topics 1 to 4 (1905–1955) or topics 4 to 7 (1945–2005) and answer three questions.
Topic 1: The Origins of the First World War, 1905–1914 
Topic 2: Peacemaking 1919–1920 and the League of Nations, 1919–1939
Topic 3: Hitler's foreign policy 1933–1939 and the origins of the Second World War
Topic 4: The Origins of the Cold War, 1945–1955
Topic 5: Crises of the Cold War, 1955–1970
Topic 6: Failure of Détente and the collapse of communism, 1970–1991
Topic 7: Post-Cold War relations, 1991–2005
Paper 3 Historical Investigation
Candidates answer a series of questions focused on a historical investigation based on their study of Paper 2 content. Two investigations
will be available in each examination, either based on topics 1 to 4 1905–1955) or topics 4 to 7 (1945–2005). The focus of the investigation 
will be published at least one year in advance. Pre-release source material is issued in February of the examination year. Up to ten sources, including primary, secondary, visual and written material will form part of the enquiry.
Pre-release Source Material 
Candidates may bring an annotated copy of the pre-release source material into the examination. Annotations may not include plans, either in bullet point form or prose, to the title of the investigation. However, brief annotations about the provenance of individual sources and source content are acceptable.
2013 Investigations 
Either: 
Why did the League of Nations fail to preserve peace? 
Or: 
Why did the Cold War end? 

2014 Investigations 
Either: 
Was Chamberlain's policy of appeasement a complete failure? 
Or: 
How close to war was the world in 1962?  

This is a new specification and AQA will provide the June 2013 exam papers to private candidates on request. There is no set text book for this course as yet. The AQA history team recommend looking at the AQA GCSE History spec B text books which are similar - with the noted exclusion of the Warfare topic which is unique to IGCSE/Certificate courses.
AQA GCSE History Book 2 C20 Depth Studies
AQA GCSE History Book 1 International Relations
Above information confirmed Feb 2014 by A Rutherford of AQA History team.
Courses & Resources
Edit
If you choose a correspondence course, note that usually tuition will only be provided for specific options, so you will not normally be able to focus on your own areas of interest  in the syllabus.
An alternative to a correspondence course is working through the topics of your choice, and having sessions with a history tutor to mark it and to hone exam technique.  These tutor sessions can be face-to-face with a local tutor, or online, which is usually cheaper.  Some tutors will mark work for you by email, on a per-item fee basis, so that you do not have to commit to regular tutor sessions.
The exam board website will usually list suggested resources, eg on the Edexcel IGCSE History page, look under 'Teacher Resources'.
Comments from Samantha Eddis, a home-educating parent and online history tutor:
I have taught CIE IGCSE History for the past few years, and I am currently facilitating it at an accelerated rate to a student via Skype and emails.  It is completely possible for a home-ed student to do a lot of the work on her own (researching and resourcing material makes learning history much more active and enjoyable), but having assignments marked can also help.

Samantha lists a great collection of free internet resources for CIE IGCSE History on her [IGCSE History page].
Comments from another member of the HE-Exams Yahoogroup:
My son took Edexcel IGCSE History last summer. We found the NEC course very helpful, especially with exam technique. While you have no choice of topics studied,  the trade off is that all the information you need is in one file and you do not have to search for relevant textbooks. There are also numerous assignments throughout the course which are marked promptly. We found one of the two markers we had provided very useful and detailed marking, the other less so. The NEC also provided a list of relevant videos and additional reading which we also found very enjoyable. I found that the major advantage of using a distance learning course for history was that I could relax and not worry as to whether we had covered all the content in sufficient detail.

[CIE IGCSE History course changes] - discussion from History Teachers' forum, on the pros and cons of the CIE syllabus.
Correspondence courses and online courses
Edit
[CM Live Online] - Live classes in historical literature by Oxfordshire home-mum Kat Patrick.  She has a PhD in literary history (specialism is 17th century), a PGCE, UK teaching experience that's UK, and an examiner for CIE.
[Net School] - 2 hours a week online class aimed at Edexcel syllabus
[Little Arthur]  - Topics to suit both CIE and Edexcel syllabuses.
[Oxford Home Learning IGCSE History] for the Edexcel syllabus.
[NEC IGCSE History for Edexcel Syllabus]
[Wolsey Hall] CIE Syllabus : "Students are required to study the Core Content of a specific region/period; our course covers The 20th Century: International Relations since 1919, and a Depth Subject; our course covers The USA 1919 - 1941."  
Ad blocker interference detected!
Wikia is a free-to-use site that makes money from advertising. We have a modified experience for viewers using ad blockers

Wikia is not accessible if you've made further modifications. Remove the custom ad blocker rule(s) and the page will load as expected.