Special Educational Needs and Access Arrangements for Home-Educated Students
Edit
Access Arrangements Flowchart. This is courtesy of Faregos Home Education Exam Centre, but similar procedures will apply to other centres. Click on the image to see a larger version.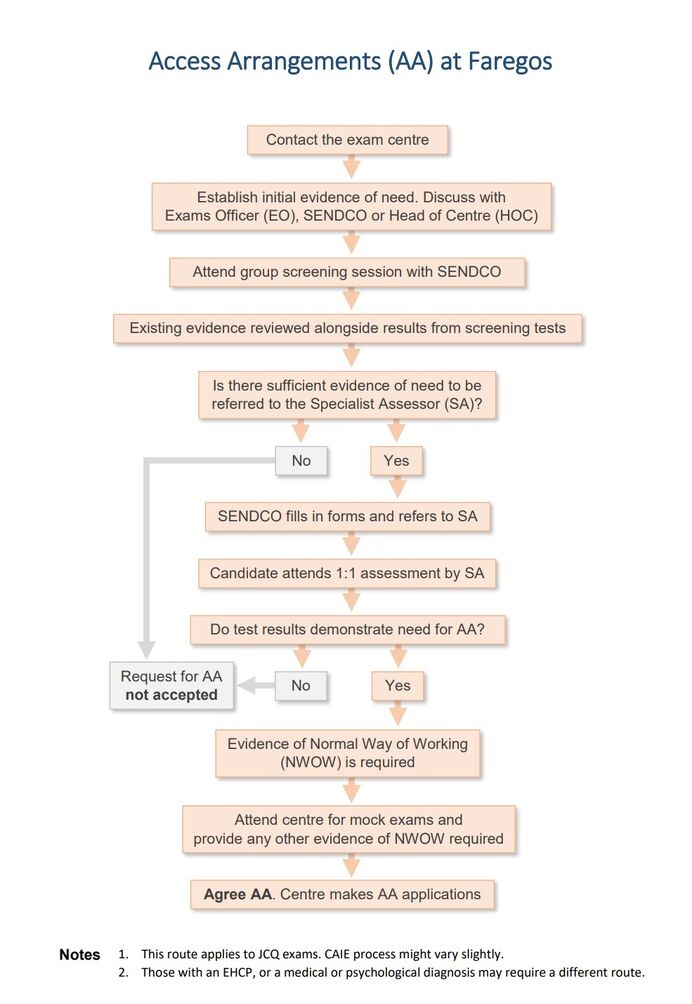 There a few outcomes from the recent changes to the Joint Council for Qualifications (JCQ) regulations on Access Arrangements (AAs) for examinations which will affect home educators. The complete regulations are on the JCQ site.
Whilst in the past the emphasis has been on assessment of need for AAs, such as extra time, reader, scribe, and a diagnosis by a doctor or an assessment by an Educational Psychologist (EP) was seen as the passport to AAs, it is now NOT this. The starting point is now evidence-gathering by teachers in the centre of a history of need and provision which, of course, is where home educating families are likely to encounter some difficulty.
Evidence of the history of need, eg teachers habitually allowing the student to complete work at home that s/he had no time for in class, will be gathered over a long period and kept in the candidate's file. This file may be inspected at any time by both the exam board and the JCQ inspector, after an application for AAs is processed by the centre.
Because  SENCOS and Exams Officers are rightly concerned about violations (which could include insufficient evidence of the history of need within the centre) which could lead to their centres being sanctioned or having registration removed, it is possible that fewer schools which have been open to Private Candidates in the past will be in the future. The difficulty of providing JCQ inspectors with sufficient centre-based evidence of need may be too great for many Exams Officers and SENCOs to wish to deal with.
How can you assist your child's request for AAs?

1. Approach a potential exam centre early on in the process. A year before the exam, in the June – September before, is probably not too early, and say that your child may need AAs.
2. Ask if you may submit a report of an assessment which you have paid for privately or whether the centre has anyone qualified and able to complete the assessment.
3. If the report you have is by a medical consultant or a professional who meets the Specialist Assessor criteria, then make sure that you state this. Criteria are here. http://www.jcq.org.uk/exams-office/access-arrangements-and-special-consideration/regulations-and-guidance/criteria-for-a-specialist-assessor
4. If you use any tutors for any part of your child's education, such as a home education group being taught by a qualified teacher, or a music teacher, or anyone who can support the request by supplying evidence of need for an AA, then ask them to write a letter outlining how they have to adjust their teaching to meet your child's needs.
See
EHE-SEN : Home Education and Special Needs England - Exams
FareGos Exam Centre for home educated students
Edit

The Home Educators' Exam Centre at Fareham (the Faregos Centre) provides low-cost access arrangements in Fareham, Hampshire, and some home educators travel from Birmingham and further afield to go to them.  It runs screening sessions for students who might be entitled to access arrangements.  Generally you would need to get in touch in September or October in order to make special arrangements for the following summer's exams, but it is worth getting in touch at a later date.  See FAREGOS exam centre 2015 message about access arrangements
This centre will be revising its procedures and adding more steps to its evidence-gathering procedures in future. So, if you plan on using FareGos in the future and your child is likely to need AAs, then get in touch about a year before the exam if possible, so it can start the process of evidence-gathering.
Links on Access Arrangements and Home Education
Edit
Dorothy Murphy - blog on Access Arrangements
Don't really want to home educate? If your child is too unwell for school, or is refusing to attend school, and you don't really want to home educate but don't see an alternative, read about EOTAS provision from local authorities before you deregister.